Painting Tutor Tonja Sell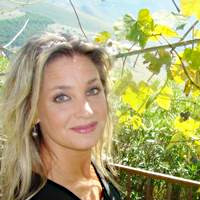 Tonja Sell is a professional Artist who has run painting workshops in France, Italy, Spain, Morocco and USA. She lives on the edge of Lake Superior where she has her studio and gallery and her family is famous for its glass design and glass blowing.. She can work in any media, watercolour, acrylic, oil, pastel, ink, ceramic and even glass. Her landscapes have a freshness, you can feel the air, and her portraits are stunning and full of depth; horses, mountains, flowers, each has its own wonder and power.
All this she brings here to the finca for you to learn and enjoy. Working together, you will be amazed at what you can do, while at the same time having fun learning different techniques from this International Artist.
Her paintings are held in public and private collections around the world, and her website contains pictures of her work.