Painting Tutors
For the schedule of our painting holidays click here.
Andrew John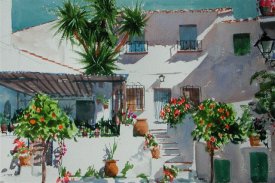 "House in Spain" by Andrew John
Andrew John brings groups out to the Finca during the spring and autumn and has worked with us for a good many years now. He is one of our most successful and experienced tutors and holiday organisers. He works and demonstrates in watercolour and is a member of the Iberian Art Society. He has a web page which describes exactly what he offers to all standards of ability. He also runs a very attractive painting programme in France. For prices and availability and more information visit his site at www.paintingholidays.com.

Doug Mays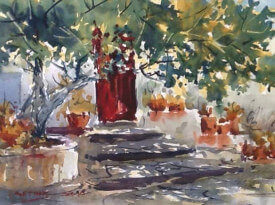 Doug Mays is an award-winning Canadian watercolour artist whose workshops are always well received by novice to advanced watercolourists searching for a looser, freer style.
Doug has conducted numerous workshops in France, Italy, Spain, Mexico as well as from his home base in Canada.
He is an elected member of Canada's national watercolour society – The Canadian Society of Painters in Water Colour (cspwc).
With 'Spontaneity' being the hallmark of Doug's watercolour style, his enthusiasm for the medium, his pragmatic and light-hearted approach all come together and lead to a stress-free and enjoyable experience.
His paintings can be viewed on his website at: www.arrowsinthequiver.com

Sara Pead
"Dia del Virgen" by Sara Pead
Sara Pead studied in the UK, in the Bristol Academy of Fine Art, working mostly in pastel and oil. After some years painting portraits she is now enjoying the wonderful light and shade of Andalucia — the colour, the people, the local traditions. Her aim is to record the beauty around us in ordinary things, ordinary people, a shape, a reflection, the Andalusian sky and the events where local people are working in the traditional manner.
She has had exhibitions locally and has sold her work in Europe and the USA.

Barry Herniman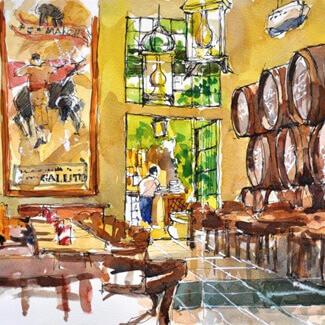 "Inside El Pimpi" by Barry Herniman
Barry Herniman has been painting full time for many years and has held workshops, demos and seminars in numerous locations both home and abroad. He works in a variety of mediums, but his first love is watercolour. His style could be seen to be ´loose and lively´, with an eye for detail and he never tires of the fluidity and transparency the medium allows. His subject matter ranges from derelict cottages to crashing seas.
He is a regular contributor to the Artist magazine and his book ´Barry Herniman's Travelling Sketchbook´ has recently been published which includes many sketches of the Finca and environs.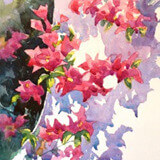 "Finca Bougainvillea"
He won the ´SAA Artist of the Year´ award in 2001. He believes that painting should be fun and is an amusing host often seen with his mandolin round his neck!
www.barryherniman.com

Diana Golledge
by Diana Golledge
Diana Golledge studied painting and sculpture at the West of England College of Art and The Slade in London, was awarded Diplomas in Fine Art, Sculpture, and Lithography, and won the Slade Anatomy Prize.
She taught in schools, and at the Gloucester College of Art and Dillington College over a period of 20 years, before turning to freelance teaching at Art Societies and painting holidays.
by Diana Golledge

Since becoming a full-time painter she has exhibited in London, many other parts of the UK, Paris, and the South of France.
Her love of painting is only matched by her love of Jazz, which comes out in her paintings of musicians; and the character of the people and the stunning countryside of her adopted Andalucia, is seen in her vibrant work. We feel sure you will be helped by this approachable and inspiring lady who has so much experience of all abilities, and an infectious enthusiasm for painting!


Claire Warner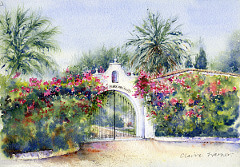 by Claire Warner
Claire Warner works as a professional artist and paints in watercolour, oils, acrylics and pastels, but watercolour is the medium she keeps coming back to.
Claire won first prize in a national competition for her teaching entitled 'Art for Therapy'. She develops and runs courses for students of all abilities around the country. Her gentle step-by-step approach enables students to produce first class finished pictures in just one day.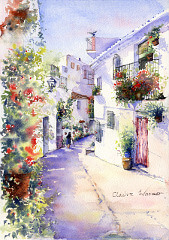 Claire's aim is to help each student reach their full potential, in addition to enjoying the painting experience. With patience and encouragement, along with her sense of humour, she ensures that each day is full of fun and a sense of achievement.
Claire's style of painting and teaching can be seen on film:-
Website: www.saa.co.uk/art/claire

Judith Jarvis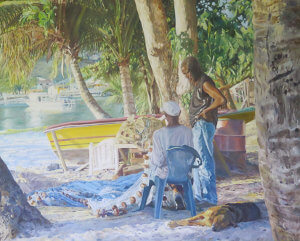 by Judith Jarvis
Judith Jarvis qualified with a BA hons degree in Fine Art at Falmouth School of Art. She also has a teaching degree and taught in the Uk for 13 years, being head of department for many of those years. She even created and art event for HRH Queen Elizabeth!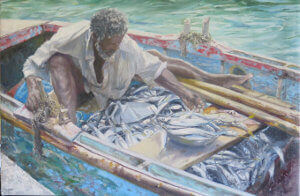 Fisherman Carenage
She's designed and painted stage sets for Glyndbourne and for the English National Opera, also theatres in Canterbury and Manchester. Judith now lives, paints and teaches in Grenada (West Indies) and her paintings capture the stunning light and colours of the island, and the people who live there.
We are thrilled to offer this opportunity for you to work and learn from this inspiring and talented teacher in this equally bright clear light of Andalucia.

Klaus Hinkel
"Frigiliana" by Klaus Hinkel
Klaus Hinkel is a member of the Andalusian Watercolour Society and was a founder member of the Malaga Watercolour Society. He has been successful in many exhibitions in Europe and America and has earned his living entirely from painting since 1990. As a teacher he is conscientious towards the needs of the individual student and people really feel they are learning something new and exciting. His style is very loose and free; the colours are pure Mediterranean. For more information about the artist visit his website www.watercolours.es

We reserve the right to change our tutors should they not be available due to unforeseen circumstances.