Painting Tutor Maria 'Miza' Tavares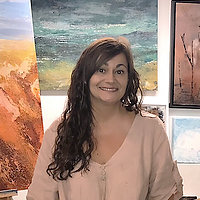 Maria 'Miza' is an experienced teacher and artist. Having travelled the world, and living in Portugal, Brazil and England for the majority of her life, she developed an unique style of painting. She began her artistic work in the early 90's, whilst living in Brazil; compelled by the magical splendour of the country and taking inspiration from the landscape.
Maria's art has been exhibited in many prestigious galleries in England (eg. Tate Liverpool) and also in France, Switzerland and Brazil, and her work is held in private collections all over the world.
She qualified as a teacher at The University of Central Lancashire and has taught across myriad locations in the north west of England, including Tate Liverpool, the Walker Art Gallery and Hugh Baird College, amongst others. In 2016, she started running painting holidays and loves it, as do the loyal learners, that return every year to join her!
Her courses are aimed at artists with all levels of experience, from total beginners to those wishing to improve their skills. This course invites you to master the art of mixing colours and create your own unique masterpieces, exploring and learning everything about acrylic paints and mixed media. This is a unique opportunity to learn new skills from a tutor with over 20 years of experience, as an art lecturer and practicing artist, of all sorts of mediums.
www.mizatavares.com